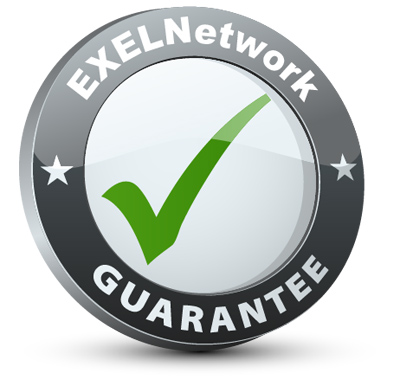 Our Guarantee
At EXELNetwork we understand the importance of getting the product, service and advice you were expecting. And since delivering on our promise to you is at the heart of everything we do, our clients are offered the peace of mind of knowing that we deliver what we guarantee.
Our Customer Service Guarantee
Throughout the EXELNetwork divisions, we're fully committed to ensuring our customer is given the suitable support they require, no matter how big or small it is. Over the years we're proud to state that we've created many long-term customer and supplier relationships, built on trust, professionalism and dependable service. The way we see it, our customers are our number one priority, meaning we're always striving to go above and beyond to meet our customers expectations and to create proven outcomes.
Our Product Guarantee
We're exceptionally proud of our diverse range of product offerings, from selling test and measurement equipment, manufacturing tags and labels and workplace training. What they all have in common is our commitment in only offering products which meet the highest standards. That's why we guarantee and stand by our products and services.
Our Expert Advice Guarantee
Across all areas of EXELNetwork, we provide an unrivalled level of practical and well-informed advice, from experienced and knowledgeable experts in their respective fields. Our expert advice guarantee doesn't ever expire either - this is something we offer as a free ongoing service to all of our customers. We won't just be there if somethings goes wrong, as after all, our customer's success is our success.